How it works
Select your car

Choose the model, grade and colour that you love.

Choose a payment option

Select cash or a finance option, then complete your order with a fully-refundable $100 holding deposit.

Collect

Pay the balance at the dealership and drive away your new Toyota on the same day.
Why order online?
Personalised finance

Get a personalised finance quote [F6], then complete the online finance application before you arrive at the dealership to finalise.

Convenient and easy

Our fast tracked process only takes 10 minutes, and you can apply for Toyota Finance too, just be sure to reserve some extra time for this.

Friendly support

Our experienced team is on-hand and ready to guide you through the process or answer any questions.
Ordering online Here's what our guests have to say
"When I was browsing the internet early one morning 'Order and Collect' caught my eye and within 10 minutes I had just ordered a brand new Toyota Corolla ZR! I could not believe how easy and hassle free the whole experience was."

"The 'order & collect' option online is so cool, and knowing that you can just go online, choose the car you want, its colour, ask any questions and enquiries right from your computer or on your phone is really clever! "

"Overall Order & Collect was great and very efficient. The services provided following my order were fantastic. Everything was done quickly and I really appreciate that."
Need to talk it out?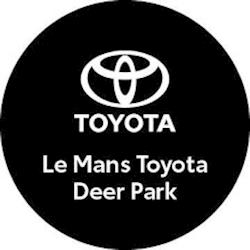 Meet Trevor Chaston
I'm Trevor from Le Mans Toyota, here to answer any questions you have.
Frequently Asked Questions
Disclaimers
[F6] Approved applicants only. Terms and conditions apply. Toyota Finance is a division of Toyota Finance Australia Limited ABN 48 002 435 181, AFSL and Australian Credit Licence 392536.